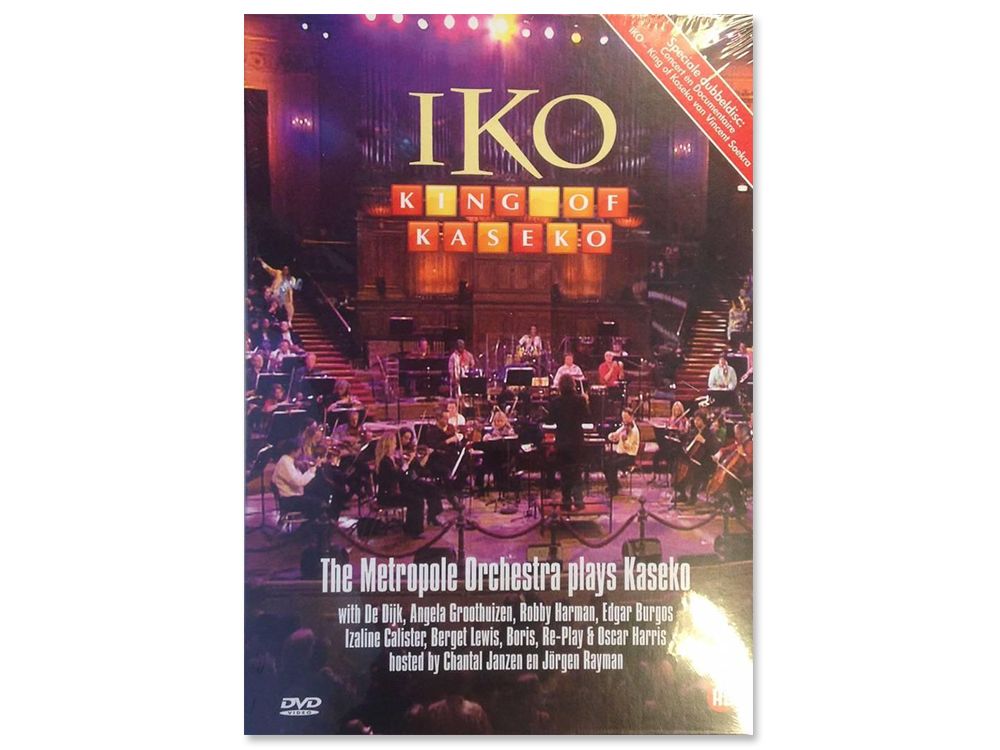 METROPOLE ORKEST
IKO - King of Kaseko
SKU: MO.DVD.08
Speciale Dubbeldisc:
Concert en Documentaire
IKO - King of Kaseko van Vincent Soekra

Metropole Orkest plays Kaseko
with: De Dijk, Angela Groothuizen, Robby Harman, Edgar Burgos, Izaline Calister, Berget Lewis, Boris, Re-Play, Oscar Harris
hosted by: Chantal Janzen en Jörgen Rayman


Disc 1: IKO King of Kaseko - het concert
Het Kaseko Crossover Concert werd op 10 april 2008 éénmalig uitgevoerd in het concertgebouw van Amsterdam. Het concert bestaat uit vertolkingen van opnieuw gearrangerde kaseko-liederen van de legendarische muzikant Lieve Hugo door Nederlandse en Surinaamse pop-iconen. Lieve Hugo is, mede door zijn grote invloed op de ontwikkeling van de Kaseko, de ongekroonde koning van deze typische, uitbundige Surinaamse muziekstijl. Met deze registratie kunt u genieten van 14 prachtige nummers.


Disc 2: IKO King of Kaseko - de documentaire
De documentaire IKO - King of Kaseko vertelt het levensverhaal van de legendarische Lieve Hugo (Uiterloo), de ongekend populaire Surinaamse volkszanger die vanuit de Bijlmermeer een mythische popstatus bereikt. In enkele van zeijn liederen voorspelt hij zijn onverwachte dood, tien dagen voor de lang verwachte onafhankelijkheid van Suriname in november 1975. De documentaire vertelt het levensverhaal van Lieve Hugo aan de hand van anekdotes en ervaringen van naaste familie, vrienden en collega's, en is tevens een indrukwekkend naslagwerk over de ontwikkeling van de kasekomuziek.
€ 19.95
€ 13.95